Carbo Koolhydraten OstroVit
OstroVit Carbo is het koolhydraatsupplement van de hoogste kwaliteit, dat wordt gekenmerkt door een zeer korte opnametijd. Hiermee kunt u tijdens de trainingsperiode geleidelijk de juiste hoeveelheid energie leveren. De voorbereiding wordt vooral aanbevolen voor atleten die krachtsport beoefenen. Daarnaast is het product verrijkt met essentiële mineralen, vitamines en stoffen die de bloedcirculatie verbeteren, zoals L-arginine en Beta-Alanine
1000 g van het product in de verpakking

20 porties

Uitstekende oplosbaarheid van het product

1 portie is 50 g
Kolen OSTROVA
Koolhydraten zijn de basis "brandstof", een energiebron in het menselijk lichaam. Het belangrijkste bestanddeel van OstroVit Carbo is maltodextrine of gehydrolyseerd zetmeel. Het wordt gekenmerkt door een hoge biologische beschikbaarheid en een snel metabolisme, waardoor het niet urenlang in de maag blijft zoals sommige vergelijkbare stoffen. Ze zijn een uitstekende injectie van energie en kracht tijdens zware trainingen en lange afstanden die moeten worden afgelegd of met behulp van uw onvervangbare fiets. OstroVit Carbo is het perfecte trainingssupplement dat de "opslagtekorten" van ons spierglycogeen opvult en ons het gevoel geeft dat we "pasgeboren" zijn. Als je een goedkoop en effectief supplement wilt dat je energiereserves aanvult, dan is dit de perfecte oplossing voor jou!
Steenkooleigenschappen OSTROVA
Verkregen als resultaat van enzymatische hydrolyse van zetmeel

Een licht verteerbare, gemakkelijk opneembare energiebron, het hoopt zich niet op in de maag

Maximaliseert fysieke inspanning en versnelt het herstel na de training.

Het perfecte trainingssupplement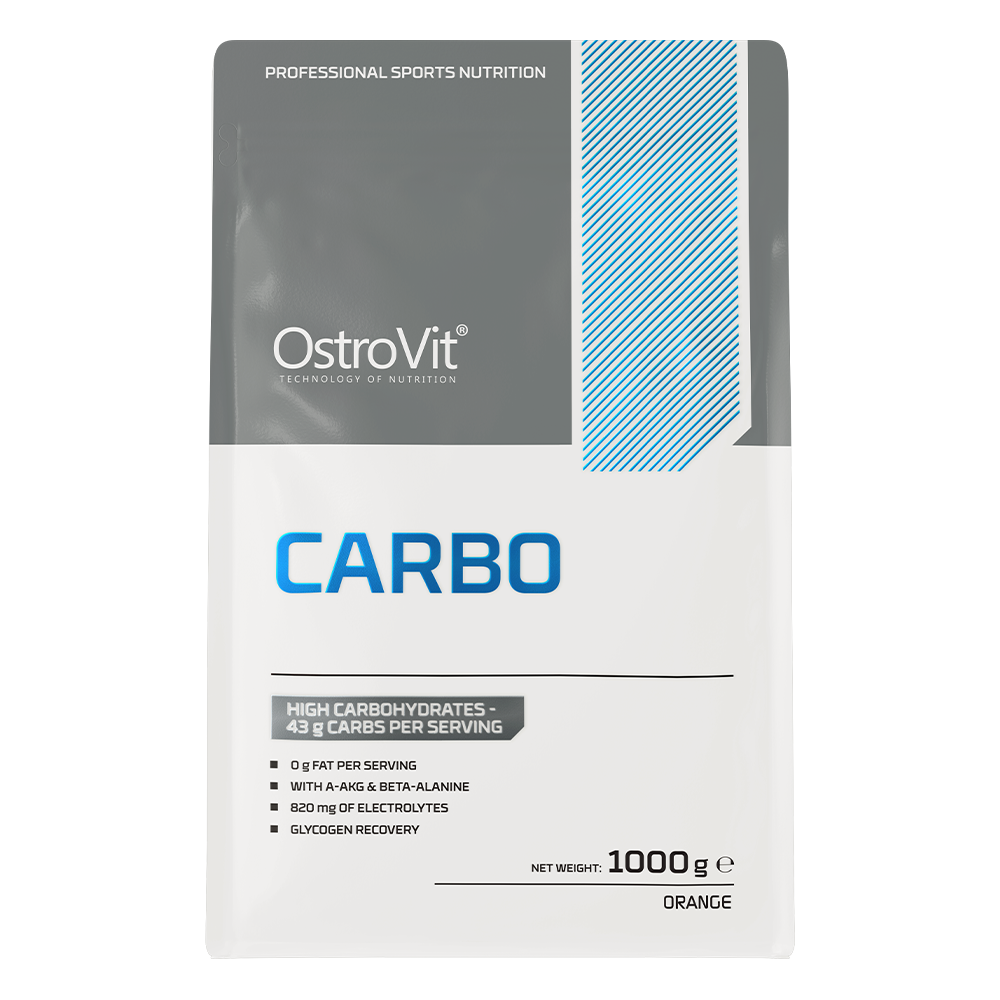 Aanbevolen gebruik:
Meng 50 g (3 platte schepjes) in 500 ml water. Consumeer 1 portie tijdens de training.
OPMERKINGEN: De aanbevolen dagelijkse hoeveelheid niet overschrijden. Voedingssupplement kan niet worden gebruikt als vervanging van een gevarieerde voeding. Een uitgebalanceerd dieet en een gezonde levensstijl worden aanbevolen. Niet gebruiken als u allergisch bent voor een van de ingrediënten in het product. Het product mag niet worden gebruikt door kinderen, zwangere vrouwen en moeders die borstvoeding geven. Buiten bereik van kleine kinderen bewaren.
BESTE VOOR: De minimale houdbaarheidsdatum en het batchnummer zijn te vinden op de onderkant van de verpakking. Bewaren bij 15-25 ° C, in een gesloten container, op een droge plaats. Tegen direct zonlicht beschermen.
Ingrediënten
Maltodextrine , dextrose, kaliumcitraat (kalium), zuurteregelaar: citroenzuur; natriumchloride (natrium), magnesiumcitraat (magnesium), calciumcarbonaat (calcium), aroma, L-arginine alfa-ketoglutaraat (AAKG), beta-alanine, kleurstof: carotenen; L-ascorbinezuur (vitamine C), bietensapconcentraat in poeder, zoetstof: sucralose; pyridoxinehydrochloride (vitamine B6).
Het voedingssupplement. Bevat suiker en zoetstof.
Het product kan melk (inclusief lactose), soja, pinda's, andere noten, sesamzaad, haver, eieren, schaaldieren, vis bevatten.
Voedingsfeiten
Voedingsfeiten
 

Voor 100 g

Per portie

*% RI

energiewaarde

1491 kJ / 367 kcal
746 kJ / 184 kcal
9 %

Dik

0,1 g

0,05 g

0 %

- waarvan verzadigde vetzuren

0 g

0 g

0 %

Koolhydraten

84 g

42 g

16 %

- van welke suikers

36 g

18 g

20 %

Eiwit

0 g

0 g

0 %

Zout

1,50 g

0,75 g

13 %

AANVULLENDE FEITEN    

Kalium

600 mg

300 mg

15 %

Natrium

570 mg

285 mg

-

Calcium

320 mg

160 mg

20 %

Magnesium

150 mg

75 mg

20 %

Vitamine C

160 mg

80 mg

100 %

Vitamine B6

2,8 mg

1,4 mg

100 %

L-arginine alfa-ketoglutaraat

400 mg

200 mg

-

- waarvan L-arginine

262 mg

131 mg

-

Beta-alanine

400 mg

200 mg

-
* RI -Referentie-inname van een gemiddelde volwassene (8400 kJ / 2000 kcal).